Good morning everyone. So as school starts today (in about 4 hours), I was going through my older programming work as the last thing I will be able to do comfortably without concerning my studies. And so as I was going through them, I came upon these 2 programs I made which held a hilarious story I had last year.
So last year (grade 11), I decided to participate at our school's science fare (a yearly event where the school is open for every student to showcase their science related work, and for people to come and watch. At the end of the day, judges assigned by the school rates all the projects and reward the best 3 of them.) aiming for the first rank that year. And so I made these 2 programs hoping I would achieve what I was hoping for. Unfortunately, everything went messed up and my wave simulator (which I am showing below) was mistook for a music player (it sounds funny, but it was very sad then) by one of the school ICT teachers. Here is a memoir I wrote few days after that (lol):
And yes I know I was an idiot.
The A-Wave Simulator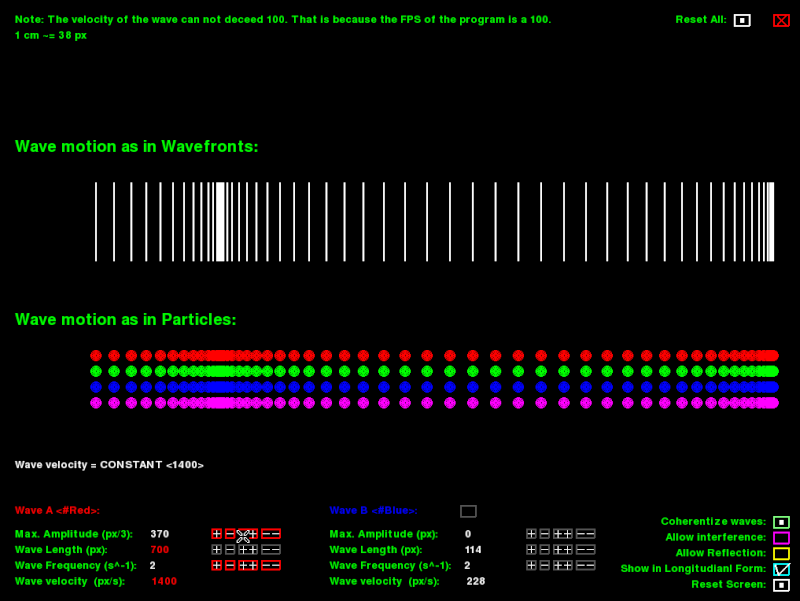 The simulator supports simulating both Longitudinal and Transverse waves. Two waves (A & B) can be simulated at the same time, and are both needed in order to allow the Interference. Reflection of the wave can be allowed too, and the Interference of the 2 waves (the original and the reflected one) produces a stationary wave and much more.
Download link:
http://www.mediafire.com/?dbmec16hdbss6nj
Source code: Well, before you take a look at it, I would like to say, BEWARE! The code sucks when at neatness perspective. No multiple files, no classes and the code isn't commented at all. You still want to see it?
http://pastebin.com/9gjSQ4SS
The A-Atom Simulator: Bhor's Model
Pretty much self-explanatory. You place nucleons and push an electron to a direction of a tangent of your atom shell to have the orbiting motion. You can as well create 2 atoms near each other to explain the way covalent bonding is formed (sharing the revolving electron(s) )
Download link:
http://www.mediafire.com/download/881co2..._Model.rar
Controls:
Right mouse click to create an Electron.
Left mouse click to create a Positive Nucleon.
You can hold the mouse and pull to make the object move in that direction you pulled into.
Source:
http://pastebin.com/SQftbk6b
Almost school time now =( .
A-Engine
: A new beat em up game engine inspired by LF2.
Coming soon
A-Engine Dev Blog - Update #8: Timeout